The new version that add terran bot feature is ready.
It is as usual absolutely safe.
New features:
- Added the option 'Boost refresh'. Use it only if you have at least dualcore processors.
- Auto management for all units type and scv.
- Auto Orbital Command.
Bugs corrections:
- Solved the F8 and chat bug.
In Alpha:
- Auto Mule.
- Auto researches.
How to use:
1) Select command center to activate it.
2) Set rally point.
3) When new barracks, factories or starports are ready, select them all.
4) If some structure is lost or is flying, reselect them when landing or when you build new ones.
5) Profit the mass production

TerranHud: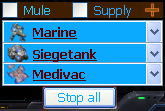 Terran Options: