The changelog history
Can be useful to find info, if you have the time to read it...

1.2.5 Beta 1
Fri 26 Nov 2010
Protection:
1) Undetectable window or processe's names.
2) Random application memory usage.
3) New fileRenamer.
Features:
1) Added the possibility to select extractors and assimilators in the alerts section.
1.2.5 Stable release
Tue 30 Nov 2010
New features:
- Added the possibility to use timers for the Alerts.
Now in the alerts tab, you can select the timer option for better controlled alerts.
Simply select the Timer option in the alerts rules. The value is expressed in seconds.
- Added custom minimap marks
You can choose different internal minimap marks for every unit or for "general" ones.
The general ones are: Stealth, Flying and Detector.
The internal marks are at the moment only 3: Triangle, cross and circle.
But you can add your own marks, by selecting *png images. Those png files should be 5x5 pixels for better results. I rascale every user defined picture, but you understand that rescaling a 1024x1024 one give not the best results, and should cause a general slowing down.
Bugs:
Corrected the alerts animation into minimap, when a game restarts.
1.2.6 Beta 3
Mon 6 Dec 2010
Known bugs:
- If there are Overlords on the hatchery, the minimap click emulation will fail.
Changelog:
- Fixed the internal auto queen mechanism for more safety.
Now it's absolutely secure.
When a queen spawn, simply select the queen with leftclick mouse button.
Sc2MapPro will do everything for you.
- Auto Overlords!
To activate select the proper checkbox in sc2MapPro and select with left mouse button,
the hatcheries you want to build overlords.
If current supply goes too low, sc2MapPro will spawn up to 3 overlords automatically.
Overlords will automatically spawn if minerals > 110, so during start up, will not be a problem, if you do not want to rush 10 Drones + lings.
maintaing minerals under 110.
Notes:
Now Sc2MapPro use the shortcuts 5-6-7-8-9-0 for internal use.
If you overwrite these ones, the queens will stop to auto inject larvas.
We are working on a system to reset shorcuts and a system for configurable internal shorcuts (if needed)
1.2.6 Beta 4
Thu 9 Dec 2010
Known bugs:
-Secondary unit doesn't work as intended.
-Larvas count problem for every hatchery.
This new version add an automatic Units/Overlords spawn
Features:
- Undetectable as before.
- Completely transparent mechanic for the user.
- Possibility to select primary and secondary unit (ex. Muta,ling or Hydra,ling)
- No Need to set up any key or shortcut.
- Full automatic process.
- Possibility to set up delay spwaning time.
- Possibility to select multiple hatcheries.
-Automatic Overlords management during production.
-Added a new HUD for units selection and for autoQueen and autoOverlords features.
To activate simply select your hatchery(or hatcheries) and select the unit you want do build.
For example, during start you can select the hatchery and the rally point on minerals.
Sc2MapPro will automatically open with 10 drones + Overlords + drones.
If you select a drone the automatic process will stop, until you change selection, allowing for example 6-8 Drones rush.
This feature is necessary, to save mineral for a structure and for avoiding sc2MapPro to get off your building selection.
When you have ready, for example, roach warren, you can select Roaches as primary and ling or drones for secondary. When there is no sufficient gas, sc2MapPro will build lings or drones.
1.2.6 Beta 5
Fri 10 Dec 2010
Changes:
- Better Units/Overlords management.
- Smart Overlord feature, working as intended.
- When sc2 loses focus, sc2mappro will stop sending keyboard and mouse inputs.
- Added the button "Stop all" under the ZergHUD. Very useful during game.
Known Bugs:
- Hatcheries selection.
When you build new hatcheries, try to select them all, as you put them down.
If you forget to do this, simply press the "Stop all" button and select all Hives, Lairs or hatcheries under the same control group. Usually is the ctrl+5.
Units Bot:
To use it properly remember to:
1) Select hatcheries for auto units.
2) Select queens for auto larvas.
3) Select drones to stop automatic production or click on "Stop all" button.
4) When in battle and you need micro management abuse "Stop all" button, and sometimes activate it to let the bot building fresh units.
5) If you select smart Overlords option, possibly avoid to make overlords by your own.
6) Remember to select secondary unit, if you have selected as primary a unit with gas cost.
7) Stop auto-mode if you want to save minerals/gas or the bot will use them all.
Cool If you think that the bot is too low, try lowering the delay value. If your hardware is enough powerful, you can try to put it 5 milliseconds or less.
9) try some single player game against cpu, to learn better, how to use the bot.
1.2.6 Beta 6
Sun 12 Dec 2010
Changes:
- As suggested by haxmap, now switching control group has been setted to ctrl+4, and hathcery group to ctrl+5.
- Added a timer for fast hardwares. Now also very fast pc will work as intended.
- Added auto build queens option.
- Changed the overlord algorithm.
- Solved some bug about Queens.
- Solved the problem of multiple hatcheries group.
- Added transparency for zergHUD when disabled or stopped. Useful to have a quick look and understand the state of the bot.
- General minor bugs solved.
1.2.7 Beta 2
Fri 24 Dec 2010
Changelog:
- F8 and chat should work as intended.
- Pressing F8 should stop the bot in every known condition Smile
- Added auto disable when pressing shift or ctrl keys.
- Added F6 to enable/disable radarHUD.
- Added options "Disable terran Bot" and "Disable Zerg Bot".
- Added some keyboard/mouse hook to try to be less intrusive during play, for terran and zerg bots.
- Some minor bugs solved.
- Overseer and Planetary fortress should be visible in resourceHUD and radarHUD.
toDo:
- Configurable resourcesHUD.
- Terran Mules.
1.2.7 Beta 3
Mon 27 Dec 2010
Changelog:
1) New structures for terran and zerg will be added automatically to their own groups when under construction. Simply left click them to add to bot groups.
2) Added the possibility to select which units/structures are visible in the resourcesHUD.
You will find the new tab "Filters" in sc2mappro main program's options.
3) Harvesters will be automatically selected at start up.
4) ForcesHud has a new option "APM". Select this option to show enemies apm.
5) Added semi-auto mode for terran and zerg bots. If selected the bot enables itself only if 1 or more hatcheries or 1 or more command centers are selected by the user.
6) Added the possibility to enable/disable resourcesHUD and focesHUD by pressing F3 and F4.
7) Added harvesters number info to resourcesHUD.
1.2.7 Beta 4
Wed 29 Dec 2010
Changelog:
1) Added automatic mules.
2) Added auto advanced supply deapots.
We worked a lot searching for something less intrusive and less difficult to set up.
At the moment it's not possible, for some sc2 client internal bugs and for some keyboard/mouse emulation problems.
To work properly, all maps need to be aligned perfectly. It seems that Blizz devs don't want player terran to easy use minimap for managing mules and deapots. Often the minerals or the deapots are clickable only by 1 pixel

Anyway, for that reason, i added two buttons that will pop up, when mules or advanced supply deapots are ready to build by the Orbital Command.
The 2 top checkboxes "Mule" and "Supply", enable that feature automatically. So when Orbital commands have enough energy, they will use the appropriate ability.
The 2 bottom buttons, will appear only if Supply deapots are present or if energy for mules are enough. Clicking on them will use mules or advanced supply.
If you have enough energy 4 mules or 4 advanced deapots will be placed for one Orbital command.
Known problems:
- The auto mule features, works in two steps.
The first one is dropping down the mule, and the second one sending the mule to minerals.
Mules will always search for an existing mineral field of it's own base.
- At the moment, to collect mules, ctrl+f1 is used, so all inactive harvesters will go for the selected mineral.
- Selecting a worker will move your current viewing position to the worker position. When the process is finished, the visual should go back to the previous selected unit/s.
1.2.7 Beta 5
Sat 1 Jan 2011
Changelog:
1) Solved the radarHUD enemies color bug.
2) Solved the mules terran bug that caused infinite loop.
3) Changed the radarHUD internal algorithm. The size/position of the first map you set will work good for the 99% of all other maps.There will be only 1 or 2 pixel of error due to floating conversion.
I recommend to use "blistering sands" map, because it has a clear outside green line surround, very useful to set up correctly the hud. Anyway we put the default one for 1680x1050 screen resolution. This will be automatically used for all maps.
4) Added a check for bad grouping shortcut, (for example barracks plus scv) that caused bot problems.
5) Changed to initial harvesters selection. Now it is a one shot feature.
1.2.7 Stable Release
3 Jan 2011
Changes:
- radarHUD resize constrained to have a square shape. Added - and + icon to radarHUD. They respectively add or remove 1 pixel size, for better adjustments.
- Solved the 'leaving a long trail bug'
- New filerenamer, with some additional check.
- Solved a bug in alerts flashing timer.
Note:
If you click on the minerals icon to resize radarHUD, the widget will not send mouse inputs to sc2 process until resize feature is disabled. This will cause the advanced bot features like larvas and mules to not work properly.
During our tests, if the first map is perfectly aligned, all the other should be aligned ( as said before, there will still some pixel error due to x,y floating conversion)
1.2.8 Beta 1
Tue 4 Jan 2011
Changelog:
1) Solved some bugs into terran macro bot. Should work better.
2) Adjusted in some way radarHUD structures centering system.
3) Minor bugs solved.
4) Added Protoss interface ( but is disabled Smile )
1.2.8 Beta 2
Sat 8 Jan 2011
- Added Protoss macro bot with chrono boost. Use it at your risk

- Solved the ForceHud bug that showed wrong players.
- Added enemies current supply info to forcesHUD.
ProtossHUD:
- Probe : Enable/disables probes auto build.
- Auto Chrono boost: Enable/disable auto chrono boost.
- First and second comboboxes are for primary and secondary units.
- The third is for auto chrono buildings type target.
Note:
If Chrono boost is disabled, a button will show up when one or more nexus have enough energy.
The auto chrono boost only triggers if at least a unit is under construction in the selected structures type.
1.2.8 Beta 3
Sun 9 Jan 2011
Changelog:
- Changed a bit the terran,zerg and protoss macro bot's interfaces
- Added the possibility to use and define text chars as markers into radarHUD.
You can find the text string under markers option.
- Added current supply information to forcesHUD.
- Added harvesters counters to bot's interfaces.
- Add the possibility to see allies in forcesHUD.
- Some minor bug solved.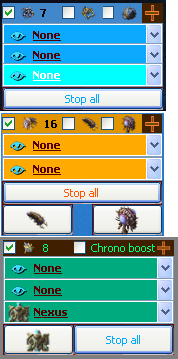 Installation:
1) Download and extract 1.2.7
2) Download and extract 1.2.8 Beta3 and sobstitute with new sc2mappro.exe.
Note:If you have problems with protoss macro bot
download units.zip and extract it into your
sc2mappro installation folder
1.2.8 Beta 4
Mon 10 Jan 2011
Changelog:
-
Added Custom shortcuts
. Actually it hasn't any control filter, remember to use a unique swapkey group. The other are not so important. If you put all shortcuts to 1, only the last one will be used.
-
Added warnings for Supply depot and Pylons
. It works with a super intelligent algorithm that will predict your future production

-Changed a bit some keyboard hook for people who has 200 apm in their hands

Note: the soundwaves for terran and toss are only intended as an example, they are so bad!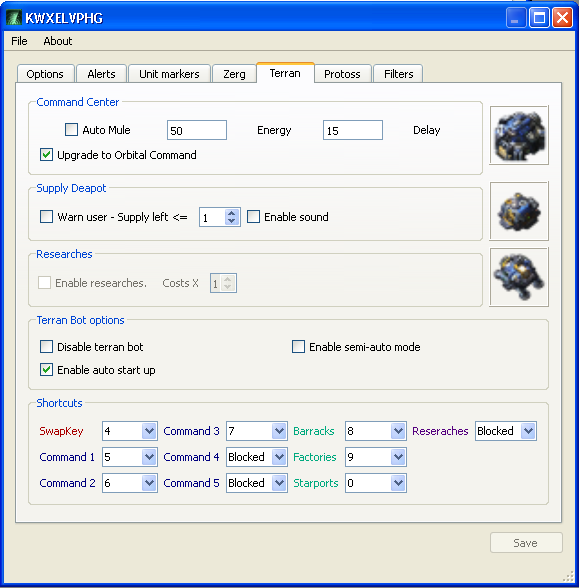 1.2.8 Beta 5
Wed 12 Jan 2011
This version works only with sc2 1.2.0.17326
Changelog:
- Compatible with 1.2 patch
- Changed a bit the auto-mules code. It should work better.
- Added a Panic Shortcut key. By pressing ctrl+z or shift+z, the bot will reset all his states variables. Useful if something goes wrong. In this case you must reselect structures.
- Changed "stop bot button". Now it should work properly.
- Added to all bot huds, a text info, that shows you, the bot current state.
- Changed Observer cost to 25/75
1.2.8 Beta 6
Thu 13 Jan 2011
Changelog:
Worked only on macro bot stability for about 13 hours.
Changed a ton of code.
1.2.8 Beta 7
Sat 15 Jan 2011
Changelog:
-Solved some minor stability problems.
Enable "Boost Refresh" only if you really need it and only if your hardware system support it.
-The ctrl/shift keys should be more reactive. This may solve the ctrl+s problem.
- Added a more solid check on selections, before adding them to bot groups.
1.2.8 Beta 8
Tue 25 Jan 2011
Changelog:
- Added 4 state auto startup for all three races.
- Changed the graphical representation for depot and pylons warnings.
- Added a button to reset the bots Hud position, for whose who have problems.
- Added the possibility to change resources hud text colors.
- Solved some queens bug.
- Bot code optimization. Now should work faster, so think about putting some more delay.
- Solved the flashing resourceHUD bug when in combat.
- Added the possibility to use sound alerts for larvas and for mules. (larva.wav and mule.wav put them into sounds folder)
- Removed the options for auto-mules, and depots. They can only be activated by the proper buttons. (they will be changed before stable release)
- Added more checks against bad grouping.
- Changed a bit the green enemy player color, to be different form your green minimap color.

1.2.8 Beta 9
27 Jan 2011
Changelog:
ResourceHud
- Re-Added the flash animation for structures under build or under upgrade (as in 1.2.7)
- Added a symbol to show if a structure is building some unit/research.
Filters
- Added the possibility to see opponents eggs

and larvas. Useful info in 1v1.
Zerg bot
- The bot will try to build units only if a minimum of corresponding larvas were found.
For example 2 hatch, minimum 2 larvas. This has been implemented to try to let the bot be less intrusive.
-Solved the problem of the usless multiple hatch selection.
Protoss terran bots
-Added some more checks against bad grouping.
Sc2MapPro 1.2.8 Stable Release
Mon 31 Jan 2011
Changelog:
- Added the possibility to disable the SwapKey function for a configurable amount of time.
In this way you can disable the swapkey during startup or during the whole game.
You can find the timer under each bot options.
- Added the possibility to use the autostartup without the Bot.
You have to block all shortcuts of the specific bot's race you want to use.
Bugs:
- Solved the restarting problem, when sc2 closes. Now you don't have to also restart Sc2Mappro.
1.2.9 Beta 1
Fri 04 Feb 2011
Changelog:
1) Added auto calibration of camera entities recognition.
2) Added a camera recognition test mode if you want to calibrate it manually ( not needed)
3) Added auto minimap centering algorithm. Should work properly in 99% of the cases.
Only maths computation was used, cause i hate archaic and slowing methods like image recognition.
4) Changed a bit radarHud code, to center properly minerals with structures.
Camera recognition test mode
To activate this feature:
1) Create a game as zerg.
2) Select a drone.
3) Activate the camera test mode in the main program's options.
4) Move your drone around the screen.
5) You will see a little square on the drone. The important thing is that the square must stay in the inner selection circle.
5) Change width, height and x,y approximation values to see the result.
approximation values are only used when the entities go near the external sides of the current view.
The auto calibration should work correctly, i added this procedure to let you setting your own values.
Camera recognition actually does not compute z axis(zoom) or rotation.