Sc2ProBot 1.2.7 radarHUD
""""In older versions we had to align minimap ourselves. Today with 1.2.9 Betas+ you only have to do a slight adjustments. This is still good info to know! """
-
wootcandy
The radarHUD is a completely overlapping and transparent widget that you can put over sc2 minimap normal radar. It shows all enemies and structure positions and shows up special units such as any stealth or burrowed units.
All normal units/buildings are represented as squares, but you can customize your shapes using the proper markers tab.
The radarHUD is necessary for all advanced macro bot features like larva's, mules or advanced supply depots, so overlapping it accurately is very important.
radarHUD can be enabled/disabled during the game by pressing F6.
Note:
- If you click on the minerals icon to resize radarHUD, the widget will not send mouse inputs to sc2 process until the resize feature is disabled. This will cause the advanced bot features like larva's and mules to not work properly.
- If the first map is perfectly aligned, all the other maps should be aligned correctly ( there will still be some pixel error due to x,y floating conversion)
- You can use the '+' and '-' icons to resize the hud.
How to overlap radarHud:
1) Click the little mineral icon on the top of radarHUD to enable sizing and positioning.
2) Use the move icon and resize icon to respectively move and resize the Hud.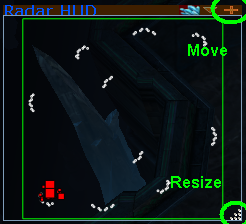 3) Click on the mineral icon when finished.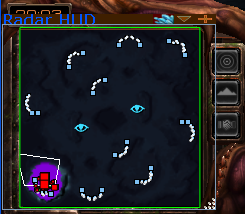 The Sc2mapPro installation will also come with some popular preset resolutions already correctly configured.
In the event your resolution isn't covered it will be necessary to manually configure the hud by resizing the overlay. You only need to set one map for your resolution after which
the rest of the maps will be 99% centered. (assuming you set the first accurately)